Tuesday, 7th December, 14:30
Photo Impulse project organized a series of webinars to reflect on the construction of knowledge and the concepts mobilized through the images produced and put to circulation by various agents of the formerempires, focusing particularly in the Portuguese case, but also in the British and French cases. We try to think of decolonial ways to approach this visual archive.
The program end on December 7, at 2:30 pm, with a talk from Professor Lorena Sancho Querol from the University of Coimbra, in Portugal, . Professor Querol will address the topic ""Passados com presente: o projeto ECHOES e as descobertas que nos trazem as histórias de vida em cidades entrelaçadas pela história colonial"", in a session spoken in Portuguese, accessible at https://videoconf-colibri.zoom.us/j/82908483525?pwd=dUwzcE5KRTVNR3BmYTdtQmUvZkFtUT09.
More information about the complete program on the project's website, here https://www.photoimpulse.fcsh.unl.pt/pt/inicio/
ECHOES aborda um dilema urgente para a Europa contemporânea: o facto de que, embora a história dos impérios e do colonialismo constitua um passado europeu compartilhado, esse passado permanece estranhamente silenciado nas narrativas oficiais sobre a "herança" europeia. ECHOES defende que a UE necessita urgentemente, não apenas de reconhecer este dilema, mas também de o incluir de forma critica, reflexiva e coletiva no centro da sua identidade. O reconhecimento plural e polissémico do património colonial torna-se ainda mais necessária à medida que a UE opera em contextos, relações e geografias cada vez mais globais, onde seu "deficit" contínuo para aceitar o colonialismo como parte da história europeia colide com o "excedente" palpável do colonialismo. Com base na experiência de uma equipe internacional de académicos/as, ECHOES explora um conjunto de ações culturais e criativas comprometidas com o legado colonial – em cidades europeias e não europeias ainda imbuídas de múltiplos traços do passado colonial – para identificar novas práticas patrimoniais coletivas. Através da diplomacia científica colaborativa entre cidades e da criação de novos vínculos e parcerias com artistas, museus e grupos cívicos, o projeto promove novos diálogos interculturais com base em entendimentos descoloniais das relações coloniais. O GT4 'Cidades Entrelaçadas', explora fenómenos relacionados com o património cultural em cidades ligadas por uma história colonial partilhada. O par Rio de Janeiro-Lisboa ajuda-nos a perceber a incontornável relação entre passado e histórias coloniais, paisagens urbanas contemporâneas, memória social e debates públicos em torno de narrativas, de objetos e de espaços que têm materializado essa relação ao longo do tempo até hoje.
http://projectechoes.eu/
https://echoes.ces.uc.pt/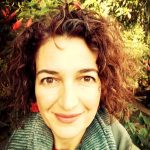 LORENA SANCHO QUEROL is a researcher in Social Museology at the Center for Social Studies, University of Coimbra (CES-UC), and Professor at the Masters in Cultural Heritage and Museology (FLUC-UC). PhD in Museology under the project "Celebration of Coastal Culture" (PT0019/EEA-GRANTS, 2007-09) and Post Doctorate in Participatory Management in Museums at CES-UC. Among the latest projects carried out, the following stand out: "SoMus: Society at the Museum" (2014-2019), where the identification, analysis and systematization of innovative practices of "cultural participation" allowed the definition of new models of participatory management in 4 European museums; "Creative Tourism Destination Development in Small Cities and Rural Areas", CREATOUR (P-2020) where she joined the coordinating team to develop the first national network of destinations and creative tourism projects, helping to implement good collaborative practices; "European Colonial Heritage Modalities in Entangled Cities" (ECHOES), H-2020 where she coordinated with Paulo Peixoto the CES team between 2018 and 2021 within the scope of WP4 on cities intertwined by colonial history and, more specifically, a comparative study on practices of decolonial education in national museums in Brazil and Portugal. https://www.ces.uc.pt/pt/ces/pessoas/investigadoras-es/lorena-sancho-querol
Last publications include: (2020) "On Ruralities and Resistances: The new management model of Pusol School Museum (Spain) and the challenges of reciprocal participation between museum and society". Museum Management and Curatorship, 1-27. (2020) "Os desafios da participação cidadã nos processos de inventariação do património cultural imaterial: os casos de Brasil e Portugal", Intersecções, v. 22, n.1 (2020), 21-51. "Invisibilized Heritage". In: Andersen, Casper; Timm Knudsen, Britta; Kølvraa, Christoffer (Ed.) Anthology exploring the keywords of colonial heritage.
http://keywordsechoes.com/